Like a spring rain, the EcoJet cleans the air.
The New Concepting in Cooling
The EcoJet's patented evaporative mechanism (CFBM) evaporates more water, more quickly and at a lower cost, than any other technology or device currently developed. Here is how it can save you or your company money, reduce employee downtime, make clients, athletes and livestock more productive, healthy and comfortable.
Most customers report significant savings in cooling costs.  Restaurants report unexpected increases in revenue per seat, when using the EcoJet outdoors on a hot and dry day or evening as you are creating room for new customers where before there was no chance of someone seating in a hot environment.
Athletes and Animals perform better and suffer from fewer heat stress related injuries and illnesses, when they are properly hydrated and have a cooling device on the sidelines. Almost every major team uses some type of fan or other device.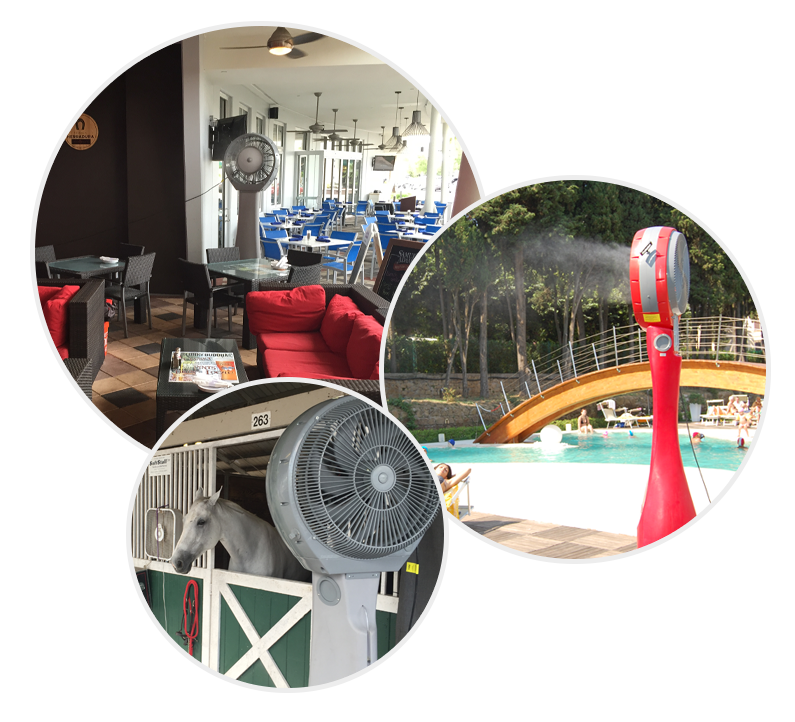 We at SouthBee, Corp., believe that soon, all outdoor athletic events, particularly in secondary and college levels, will require some form of cooling station.  It makes sense, and may play a part in OSHA compliance.
SouthBee, Corp. and Joape of Brazil have the only patent for CFBM technology.  We are pleased to announce that we have even found a few companies selling generic copies of our device; the highest form of compliment we could receive. Who illegally copies something that does not work!
In conclusion, the industry known as HVAC serves most of the needs of its clients.  But, until cost-beneficial-climate-control is seen as the real benchmark for industry success and deliverables, the world is only half-way there.

"These values are estimated and will depend on each environment where the product is installed or placed."